Safety tips that you will need while working as a volunteer in India!
When visiting a foreign country one thing that comes up is security or safety. You are moving to an area which you are not familiar with. You will be in a country which has a different set of laws, culture and new ways of doing things. This can be a nightmare to many, especially those that will be on their own upon arriving in a foreign country. Issues of security or safety that might arise during a foreign visit would be mugging, kidnapping, and carjacking among others. However when arrangements have been made to ensure your safety, you need not worry, having said that, it is also advisable to take some precautions.
They say that safety begins with you; the host can do everything possible to ensure that your safety is guaranteed but if you do not play your part, this might not be realized. Here are some tips that will ensure your safety while working as a volunteer in India. Most volunteer organizations take safety seriously; everything possible is done to ensure that you are safe; this includes picking you up from the airport and accompanying you to most of the places that you visit. However, this may not be enough; you also need to play your part to ensure own safety.
Assess the risks
Every country in the world has its own unique security challenges, the security risks in a developing country are totally different from what may be experienced in a developed country. This also applies to the different regions; the threats in African countries are different from those in Asian nations. The fact that you have lived in some of these countries does not mean you might not encounter security risks or will handle them perfectly. You need to assess the risks in each country, understand them and know what to avoid. This kind of an assessment will make your visit not only safe but also enjoyable.
Your level of alertness should always be high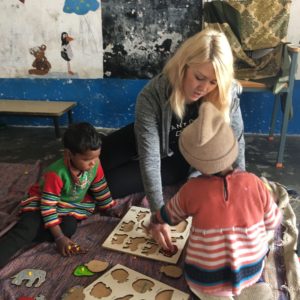 This is a skill that you need to survive anywhere, whether an area is safe or not. Being alert means familiarizing yourself with the environment. You need to learn about your environment, if you find something which is not safe or feel wrong, do not wait, and take action. You will be walking on the streets often as you tour the town or as you look for a restaurant, shop of any other place of interest. As you do this, be alert, be aware of the fact that you are in a foreign country and things might be different from what you are used to. Avoid places which you feel are not safe or basically pose a risk to your safety. When you do this, you are avoiding trouble and trouble will also avoid you. Your level of alertness will always tell you when something is amiss, and from that you will take action that will make a difference as far as safety and stay as a volunteer in India is concerned. Although we have stressed the need for alertness, do not go overboard, you need to analyze the situation and understand whether there is a need to raise an alarm, Sometimes, through raising an alarm, you may be making things worse or calling attention to yourself when none is required. This can be avoided through seeking the company of people who are familiar with the place. A staff from the volunteer organization or members of the local community whom you have come to trust can also be good company.
Avoid lonely and dark streets
There are some areas in any city that are marked by security agents as crime hotspots; these are mostly lonely streets or dark alleys. Whatever you have seen on movies should not be practiced in these areas, the security agents did not err in declaring these areas hotspots, they did it to ensure that people are safe and that they do not risk their lives by venturing into these streets. If you cannot avoid these areas make sure that you are accompanied, this can help you be in a position to raise alarm when in trouble or even scare away robbers and muggers. Make sure that you are not carrying anything that may attract attention. Expensive jewelry, laptops or basically anything that attracts attention should be left in a room or deposited in a safe location. Where possible visit these areas during the day, in the event of an incident, you will call for assistance and the chances of getting it are high during this time. Through your interactions with the staff in the volunteer organization as well as the local community, you will be in a position to identify areas that need to be avoided.
Avoid wearing expensive jewelry in crowded places or on the street
Sometimes people court trouble, wearing expensive jewelry in crowded places or on the streets is tantamount to announcing to thieves and basically advertising your wares or calling attention to yourself. This is something that is common in all cities; not only in this part of the world. Expensive jewelry should be left in the house or cover them well when in places which are not safe. This will save you from snatching or muggings. When you expose expensive jewelry especially in the poor neighborhoods or crowded places, you will be tempting the muggers. If you cannot avoid such places ensure that you wear light clothing, and do not reveal something that you think might attract robbers and muggers.
Be accompanied by a local or a staff member when visiting unfamiliar places and follow their advice always.
You will be interested in visiting different places; this is one of the reasons why you are a volunteer in India. You want to discover new places; you want to learn about the country. This means that you will be visiting different places of interest. While this is highly encouraged, caution is needed, do not visit new or unfamiliar places alone. Always be accompanied by a guide or someone who can show you around. Somebody who is familiar with these places will not only help in making the trip better and more enjoyable but will advise on places to avoid or what to do in unpleasant encounters.
Volunteering in India is such an exciting activity; however it can be affected by safety or security issues. While the volunteer organization does everything possible to ensure that your safety and security is guaranteed, the organization requires the cooperation of the volunteer to make this possible. Also there are some simple things that you can do to ensure you are safe while working in volunteer programs in India. Always be alert, seek company and avoid carrying expensive things in crowded places as well as avoiding crime hotspots. With these measures your safety is well guaranteed and you will have a nice stay as a volunteer in India.